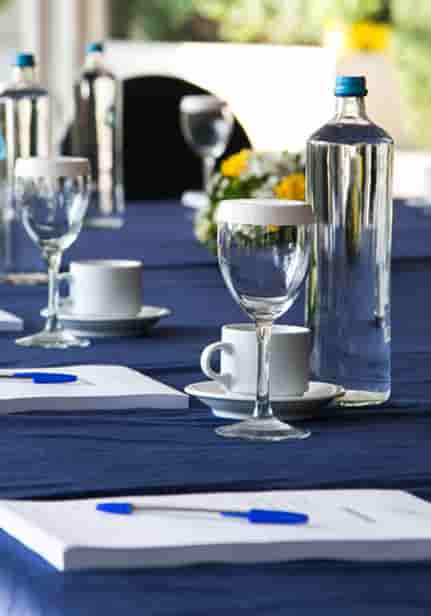 Corporate Function Venues Melbourne
Your corporate image, as projected before the clients, partners, and other stakeholders, is contingent on the way you professionally conduct yourself publicly. Corporate events' hosting is a pivotal part of this image building exercise. We have proven expertise and necessary wherewithal to host any high profile corporate event in Melbourne and in immediate neighborhood.
We have the resources, skilled manpower support and the choicest corporate event venues across Melbourne which helps us to measure up to your corporate aspirations. Our catering services Melbourne are extremely cost competitive and cater to your culinary needs optimally with gourmet delicacies that will delight guests. We can handle elegantly any corporate event, Annual Business Meeting, Team appreciation Night or other get-togethers. Our service personnel will entertain guests and serve them unobtrusively and would seamlessly mingle with the attending guests so as to optimize the events' appeal.
We can arrange the venue for the Annual business meeting in Melbourne of any scale and can accommodate the number of guests defined by you. Our streamlined hiring modules have been customized to meet your budgetary allocations for the event. We can serve exotic food and liquor at the events for any number of guests as specified by you. You will never have to lose your face before the guests when you rely on our corporate catering services. Best chefs in Australia will prepare gastronomic delights and dainties to soothe the palate of your guests and make the event a runaway success.
Our corporate function venues Melbourne are classy with the atmospherics perfectly complementing the mood of the event. Our Manager would personally attend to the needs of the guests and keep them entertained and in a jovial mood. The compelling experience offered by us will etch your brand indelibly in the psyches of your guests.
We are passionate about offering best in class services to our clients. Our helpdesk is managed by amicable representatives who would affably respond to your queries and offer the best bespoke solution for your corporate needs. We have significant experience under our belts in organizing and managing large scale and prestigious corporate events & Corporate Catering Melbourne.